Hlavná stránka
Conference/Meetup CIO 23
Venue : Quality Hotel Brno, Czech republic
Date: 24 May 2024, 9-15
"Trusted Single Source of Truth"
Conference/Meetup CIO 23
Venue : Quality Hotel Brno, Czech republic
Date: 24 May 2024, 9-15
"Trusted Single Source of Truth"
Title: Building Enterprise Knowledge Managament system based on Sparxsystems Ecosystem
Abstract:
Concept of 3Rs - Right Information for Right Role in Right Time
From Single source of truth 2 Trusted Single source of Truth
This is introduction to Enterprise Architecture Management (EAM).
Knowledge Base Management Systems based on metadata.
01.Prezentácia bola realizovaná v rámci klubového večera ITSMF.
02.Linka na Prezentáciu v HTML
03.Videozáznam prezentácie - ActivePresenter
04.Videozáznam prezentácie -ITSMF channel - Youtube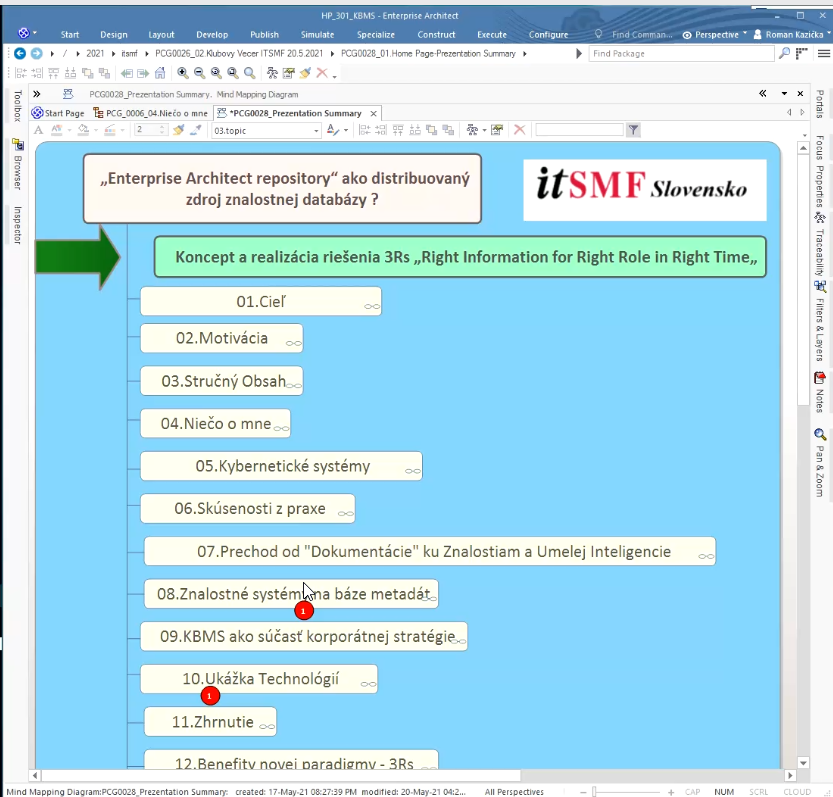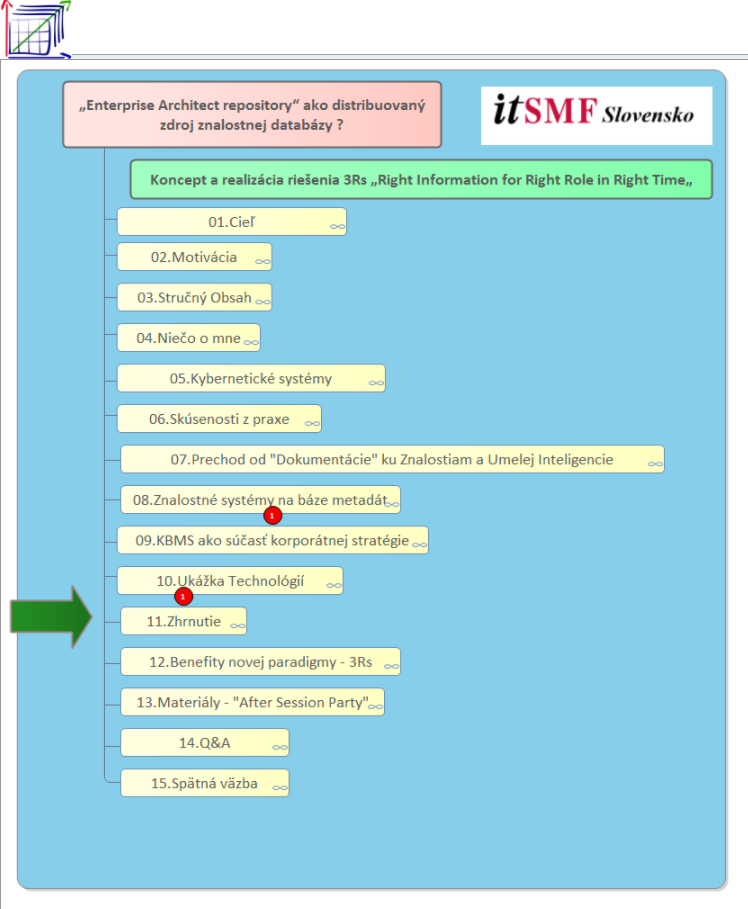 Knowledge Management Systems Architect
Experienced IT consultant in the fields - Enterprise Architecture (TOGAF), IT Service Management (ITSM), SW Development (AGILE)


Right Information - In Right Time - For Right Role - 3Rs not only in Information technology
This theme is driving my entire professional career. Since 1995 I have finished my PhD study (Technical cybertronics-specialisation Measurement technics). I have started to work in big corporations in industry (Siemens), production of customer electronics (Phillips, Sagem). Software development for international solution (Trenkwalder Technologies), automotive component production (Wabash technologies), IT outsourcing in automotive (VW), big international project in Bank area (HP, Deutsche Bank).
I was in wide range of positions. From specialist for Computer based measurement and automation, Division manager, CTO, ITSM manager, Business Analyst. Everywhere the most important things is common understanding among key stakeholders.
Decision based on non-transparent processes, not precise or even not available information leads to non-qualified decisions.
Misunderstanding is leasing to non-quality at every level of management.
How much money costs non quality in IT?

Is it worth to care about it? In production there are a lot management systems focus on non-quality (Keizen, Lean Six Sigma, KanBan).
In IT development projects we are trying to apply AGILE approach to accelerate the time to market and business value to business. Very special point in the process of common understanding is documentation (in sense of documents in different formats like pdf, docx, html. ...).
Documentation in IT? Lost of Time or strategic Value? (

www.leanpub.com/7d

)

What do we really need documentation or information?

How key decision makers (CEO, CIO, COO, CTO) receiving information for qualified decision?

It is interesting that everybody blames that documentation is pure, not up to date, useless, missing at all. Even in the big contracts between supplier and customer are statements, which are not correct. It leads many times to the very serious problems in relationships.
Without communication is no understanding, without understanding is no trust, without trust is everything more complicated.
Based on my experiences in different environment I am providing the consultancy how to manage this situation
new paradigm of collaboration among key stakeholders

one source of the truth

it is shared knowledge located in common repository

documents (pdf, docx, html) are still necessary, but they are secondary carrier of information/knowledge.
Documents are obsolete in the moment they are printed, generated, the only chance to keep information up to date is using another approach to knowledge management process.
I see solution for IT in Model Driven Solution. In industry are known Systems PLM (Product Lifecycle Management) in construction are known BIM Building information Modelling. In IT we are growing very rapidly to MBSE - Model Based System Engineering.
For implementing such a movement to the new paradigm of cooperation are necessary several things:
Leadership,

Management,

Processes,

Methodologies,

Technology,

Mindset
I am looking for the cooperation where Leaders define clear right values, management can manage these values in right way. I would be happy to have the chance to contribute to the improving the processes, providing the right methodologies, setup right technology, help to support the right mindset. I am convince if we put together all these ingredients, we have the chance to bring the business the right value in the right time. Small sample about this approach You can see here www.leanpub.com/7d